Don't you hate it when you start a task with good intentions and you suddenly find yourself thinking halfway through 'I wish I had never started this'? That's how I would feel with lasagna. A bit deep, I know, but bare with me. If you don't have time for that, feel free to skip straight ahead to the recipe 🙂 We're here for recipes, after all, not life stories
——–>>>> Jump to Recipe <<<<--------
When I say this is 'next-level lazy' I don't mean to say that this lasagna is 'lazy' in flavour, though it is pretty lazy in the method. Whilst a teeny bit of effort has to be put in, it's not anywhere near the amount of time or faff that you typically see in other lasagna recipes.
1) I don't pre-boil the lasagna sheets, the sauce does all the work for me.
2) I cheat with the cheese sauce, as not to have 5 million pans on the hob at once… the rigmarole of one pan out for the pasta, another for bechamel, one for the meat sauce, THEN the dish to cook the lasagna in. NOPE. None of that, thank you.
3) The secret is pesto. Pesto will solve all your (lasagna-related) problems.
Now, this is where I lied to you slightly because I did put in a TINY bit of effort. Just a small bit. This is optional, but I made my own pesto and I think this is a big reason why it tastes so good and yes, I know, I'm very modest. As means to avoid stress, faff and – Oh God, the extra washing up – you can get organised and make a batch ahead of time to keep in the freezer for THE OPPORTUNE LASAGNA MAKING MOMENT. Link to the recipe here: http://annacooksthings.com/2020/06/easy-peasy-nut-free-pesto/
More than likely, you've landed on this recipe for a quick recipe and I have caught you, a fellow lazy person, off-guard with the pesto making. But don't let that throw you out of whack. You can easily substitute with shopbought pesto, which you can get in most convenience shops and supermarkets. My recipe has sundried tomatoes in but it's more of a hint then a full-on flavour, so normal pesto is fine or the tomato flavour one if you're feeling a bit more adventurous.
Next-Level Lazy Lasagna
Quick and lazy recipe, extremely tasty whilst still feeling very homemade and rustic. There's no need to pre-boil the pasta sheets, the sauce will do the work for you. All you have to do is make the meat sauce and, if you have the time and sheer will power, the pesto (but shop-bought is fine if not)
Link to pesto recipe: http://annacooksthings.com/2020/06/easy-peasy-nut-free-pesto/
Ingredients
For the meat sauce
6

pork sausages

500g

beef mince

400g

chopped tomatoes (approx. 2 tins)

2

onions

2

carrots

2

tbsp

tomato paste or ketchup

1tbsp garlic olive oil / cooking oil of your choice + 1 finely chopped garlic clove

Glug of red wine

1/2

Beef stock cube

Lots of dried mixed herbs
For the cheat's bechamel sauce
400

ml

creme fraiche

1

egg (to help thicken the sauce slightly)

Dash of milk (just enough to make the sauce thin enough to pour)

1

tbsp

mustard

(French or English ideally)
Other Ingredients
Packet of Lasagna sheets

Pecorino cheese or parmesan

Grated cheddar or mozzarella
Instructions
Peel the carrots and finely chop with the onion. De-skin the sausages by snipping the ends with kitchen scissors and peeling the casing off.

Heat a pan on a medium flame and pour in the oil. Add the onions and carrot to the pan and gently cook until browned and starting to soften. Then add the sausage meat, crumbling in using a wooden spoon, add the beef mince and let brown. Then add tinned tomatoes, ketchup or tomato paste, half a beef stock cube and a good glug of red wine. Season with salt and pepper, lots of mixed herbs and bring to the boil

Once boiling, turn to a simmer and leave for 20 minutes with the lid 3/4 of the way on. In the meantime, make the bechamel sauce. Tip creme fraiche into a bowl and crack in the egg, mix together. The mixture will be fairly thick so you'll want to add a dash of milk, just enough so it is a pourable liquid.

After 20 minutes, give the meat sauce a stir and taste to see if it needs more seasoning or even a dash of soy sauce if a bit bland. If it's looking too thick and congealing, add a dash of water. Bring to the boil and simmer for another 10 minutes. Your end result should be a fairly thick sauce but still with a small amount of liquid as to stop the lasagna from burning. Turn the heat off and put to one side when done.

Next, grab the dish you will be cooking the lasagna in (a wide, shallow dish is ideal) and put a thin layer of both sauces on the base to stop sticking. Don't worry about the sauces merging, it won't look pretty but it will taste great.

Spread a good layer of pesto on the uncooked lasagna sheets and layer them into the dish, followed by the meat sauce, then white. Keep layering in this order: lasagna, pesto, meat sauce, white sauce. On the last layer, top with bechamel and a generous amount of two types of cheese. I recommend pecorino and cheddar, but feel free to go traditional and use some mozzarella.

When ready to cook, pop in the oven at 180C fan oven / 200C conventional oven / Gas Mark 6 for 45 minutes or until hot. I recommend covering this with a thin layer of foil as to avoid burning, taking off the foil only when melting the cheese at the last minute. If you do find it going a bit too brown do not fear, it will still taste great even if doesn't look it!

Enjoy your lasagna with extra cheese, pesto or a bit of basil. Great leftover the next day with a quick ping in the microwave, or can freeze portions for up to 6 months.
So there you have it, that's my lazy lasagna. I won't lie, it didn't look much when I first took the dish out of the oven (hence why I don't have a full lasagna photo – not particularly photogenic!) but it tastes pretty damn good. To quote a wise, fat ginger cat: 'Once again my life has been saved by the miracle of lasagna'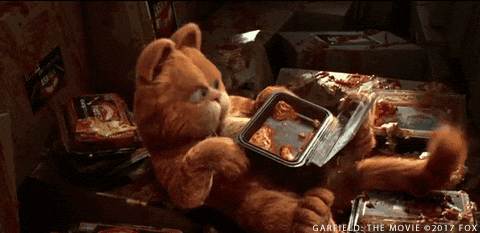 I hope you enjoyed this recipe and if you try it let me know. Until next time
Anna